Know the facts of the tremendously beautiful country that is Wales, a celtic neighbour for England and land of mysteries and legends in its own. Here is our little Welsh ID card…
Status: Part of the United Kingdom along with England, Scotland and Northern Ireland.
Surface: 8023 square miles (20 780 km², a quarter of Scotland) with 746 miles of coastline.
Regional capital: Cardiff (335 000 inhabitants).
Population: 3 065 000 appx.
Languages: English and Welsh.
Peak: Mount Snowdon in the North (1,085 m (3,560 ft) ).
Political regime: semi-autonomy with a Welsh National Assembly in Cardiff and a local government.
Particular characteristics: Welsh, most spoken celtic language in the world; 9,7 million sheep (four times the amount of inhabitants).
Symbols: Leek, red dragon, daffodil.
Money: pound sterling.
Head of State: Queen Elisabeth II (UK).
Head of government: Theresa May (Conservative Party, since July 2016).
Unesco World Heritage sites: Castles and Town Hall of King Edward I in Gwynedd (1986); the industrial landscape of Blaenavin (2000); the canal-bridge and canal of Pontcysyllte (2009).
The Welsh language
Along the centuries and despite the imposition of English as the only official language in 1536, the Welsh language has resisted to its neighbourly invader. Here is a fun fact that symbolises well the chequered history between the two people: Cymrû, the country's Welsh name, means "Compatriot", whereas Wales comes from the English wealhas, "Stranger".
Nowadays, more than 20% of the populaton speaks Welsh, and the number reaches 80% in some regions of the north and west.

The language does have legal value, notably thanks to the 1993 law naming equality in the public sector between English and Welsh. In daily life, packaging, adverts, invoices and judicial administration have to be written in both languages.

The National Assembly is bilingual since its creation, and road signs are usually written in both languages. Moreover, Welsh is taught in school as a mandatory subject, and the medias are in: radios started emitting solely in Welsh in the 1970s, and the first European TV channel in minority language, S4C, was created in 1982. Of course, there is still much left to do to promote the language. It is part of the Welsh identity, and overall helps to distinguish the Welsh from England.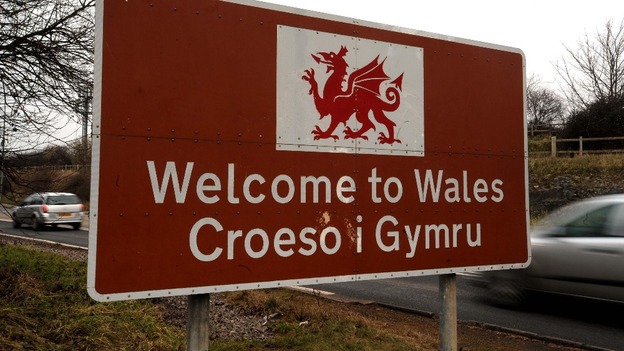 Remember, Welsh is not a dialect of English. It is a language in its own, of celtic origin. It actually shares similarities with the Breton language, with identical syntax and grammar. More surprisingly, Welsh is in some aspects close to French. For example, it distinguishes masculine from feminine, which obviously English does not do. However, the alphabet does not contain j, k, q, v, x or z.
The w is considered as a vowel, which actually does facilitate the pronunciation of some words: if you don't know that, cwrw (beer) is suddenly unpronounceable.
Here's the thing: mutations. Some letters, placed in particular conditions (for example after a preposition) change. The b becomes f or m, the d can become dd or n, etc…
But here's an encouraging note: all people of Wales speak English, so you can get around without problems, if the accent can be quite strong in the South, and you may be surprised by people suddenly speaking another language…